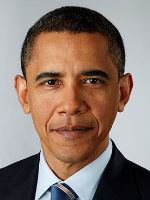 Barack Obama
Alive
Born:
8/4/1961 in Honolulu, Hawaii, USA
Age:
62
Full name:
Barack Hussein Obama Jr.
Noted For:
U.S. Senator (D-IL, 2005-08); 44th U.S. President (2009-2017). Signed the Affordable Care Act, or "Obamacare," into law (2009). Awarded the Nobel Peace Prize (2009). Deployed military "special operations" in 134 countries and authorized 526 drone strikes that killed over 3,000 people.
Quotation:
"If you've got a business, you didn't build that. Somebody else made that happen."
Copyright © 2023 by David Carson. The Dead or Alive Data Base is brought to you by Living Water Specialties.