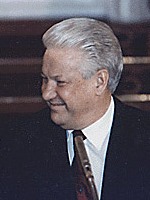 Boris Yeltsin
Dead
Born:
2/1/1931 in Butka, Russian SSR, Soviet Union
Died:
4/23/2007
Age:
76
Cause of death:
congestive heart failure
Full name:
Boris Nikolayevich Yeltsin
Noted For:
Soviet/Russian politician; member of the Soviet Communist Party's Central Committe (1981-89); deptuy in USSR Congress (1989-91). Elected president of Russia (1991-99) - the first democratically elected leader in the nation's history. Rescued USSR General Secretary Mikael Gorbachev from a coup attempt (1991). Outlawed the Soviet Communist Party (1991). Proposed and guided adoption of Russian constitution (1991).
Copyright © 2023 by David Carson. The Dead or Alive Data Base is brought to you by Living Water Specialties.