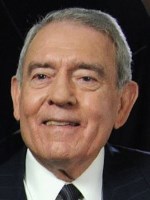 Dan Rather
Alive
Born:
10/31/1931
Age:
92
Full name:
Dan Irvin Rather Jr.
Noted For:
TV news reporter and correspondent (CBS News, 1962-81); news anchor, "CBS Evening News" (1981-2005). Reported the President Kennedy assassination (1963). Angrily walked off the set when a newscast was delayed by a tennis match, causing six minutes of dead air to be broadcast (1987). Reported a story critical of President Bush's National Guard service when all other major news organizations had determined the documents supporting the story to be forged (2004).
Quotation:
"Courage."
Copyright © 2023 by David Carson. The Dead or Alive Data Base is brought to you by Living Water Specialties.